Main Menu
External Pages
Earth People Special Articles
Wallace Black Elk, in 'Black Elk – The Sacred Ways of a Lakota'
by Wallace Black Elk and William S. Lyon, says:
"But we are the Earth People.
We are steadfast and honest.
We are true to our commitment, and we stay right in there.
So the spirit comes to us."
Main Articles
Categories
Latest Special Articles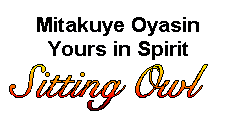 Donations
If you would like to make a donation to Sitting Owl
please use this button.