Spiritual Unity of the Tribes'
14th  Gathering
At The Grampians April 2013
Sitting Owl's Experience
Sorry, but I didn't take any photos and unless someone donates some that they took, this will have to be a "You had to be there!" gathering; shared here in writing as Sitting Owl experienced it.

After unpacking and greetings, it was well past dark when we (most of those there) dug the Sacred Fire pit, but at least we had good moon light and the odd torch to check on details.

What can say about the gathering? From opening ceremony to closing ceremony; just magical for everyone, including all of us pushing through obstacles and past comfort zones; and with a double Sun-bow (rings around the sun) to signal the after effects on the Monday.

One of the best aspects, for many I suspect, was the introductions and sharing of everyone, one by one, at a couple of fire circles. where we got to hear everyone's story, which could only strengthen our uniting bonds with each other. Yes, it did push many of us past our comfort zone, which helps us grow and has to be good for us, yes?

In my opinion, it was the efforts and hard work of everyone putting in everything they could that made it the greatness that it was, but it simply would have lacked greatly if any one who attended, had not.

We were blessed with visiting Elder (from USA) Ben Rhodd and other blessed and blessing Elders like Kiri Dewes and tribal land owner (caretaker) of the land Johny(?) Lovett, who blessed us with his enthusiasm.

The Sweat Lodge was a memorable experience with all the improvisations and scary wind gusts that were playing with bursts of ash and small embers; pushing this little fire keeper past his comfort zone at times.

The Committee agreed that the attendance and spirit at this gathering has re-energise their commitment to SUT.

I hope to see some photos I can upload; anyone out there!? And I hope to see some of YOU at the next one or before, as often or as long as you like.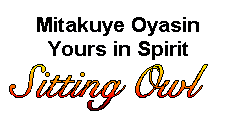 Testimonials
Testy-Money-Alls

Now Playing: 'Don't You Feel Small'
By: The Moody Blues
Did you expect to see here all the comments by people who have said good things about the teachings and experiences with Sitting Owl, Earth People Productions, and this 'Business'. Well I have news for you; I'm writing about the ridiculousness of the concept of testimonials; especially regarding spiritual matters, teachings, and healing.
I grant you that you can't always believe what a business says about itself and it is always good to get an outside person's opinion of their experiences and dealings with the said business, but these testimonials are hand chosen by the same people who are trying to convince you to 'invest' your money, time, and energy into them; their 'business'. That is unless they just make them up themselves; have you ever had the ability to actually contact and speak with any of the testimonialists (people who have apparently testified about their experiences) first hand to discuss their uncensored views.
I will also remind you that I'm not here doing any of this for 'business'; I'm doing this for the benefit of humanity, life, Great Spirit, and 'All Our Relations'.
If you have any feedback you wish to give or share with me, be it good or bad, positive or negative, praise or criticism, (which are just your own perceptions anyway) please feel free to send me a message via my contact form. If you feel you have experienced something magical or special here and want to share it with others or spread the message I'm trying to share here then feel free to tell others, but I don't need to have testimonials here; and I'm not interested in testy money alls. But please feel free to use the button below to make a donation if you wish to help me to continue in this current economically dominant society we have at the moment.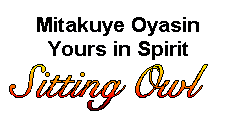 Donations
If you would like to make a donation to Sitting Owl
please use this button.


This page was last updated

Copyright © Earth People Productions - All Rights reserved