Main Menu
External Pages
Coming Events
Now Playing: 'Call Me The Breeze'
By: J. J. Cale
Keep an eye on this page
as I will do my best to keep it up to date.
I am most likely to be running Purification Sweat Lodges every Full Moon and apart from what is entered below please don't hesitate to contact me and make an appointment to do some ceremony with me, come and chat, or ask me any questions.
---
Sweat Lodge
I am available for this important and sacred ceremony and other spiritual matters whenever you call. Apart from the Full Moon Sweats, if I have been asked to run one for someone else, you may be able to join in; just ask!
I look forward to hearing from you and doing some ceremony together.
Contact me via the form at this link
and come and make your own event!
or Phone 24 hours: 0408 583 532
(international: +61 408 583 532
011-61-408 583 532 I think.)
Sweat Lodge
The Sweat Lodge or Inipi is a traditional cleansing ceremony where we humble ourselves on Mother Earth for four rounds of prayers and songs and come out like spiritually, emotionally, physically, and mentally purified new born babies.

Traditionally these and most ceremonies were specifically for men only as nature puts women through a cleansing ceremony every month with her moon time (menstruation) and renewal through child birth. Because these things don't happen to men a ceremony must be created for the same reasons. Having said that, it is important to realise that most women living in mainstream society are so disconnected from nature (inner and outer nature) that these ceremonies are useful to help them reconnect to their nature too.

To understand these differences between male and female energies it may be useful to read this article: Male and Female Energies

Winter time is the best time for a number of reasons, one being that our skin gets more clogged with all the clothes we need to wear to keep warm, another is that it is much less of a fire danger.

Any ceremony is in Great Spirit's time, but generally they go from anything like 1 hour to 5 hours, but usually around 3 hours, but I like people to arrive here around lunch time for an evening Sweat for many reasons that will become apparent; mostly to explain the symbolism of everything as well as preparation and protocol of how I run my Lodges.
Probably the best explanation is in an article that Cheryl wrote in answer to someone's queries about Sweat Lodges. The link to that article is: Sweat Lode
The great ceremonial chief of the Teton Sioux, and holy man Frank Fools Crow (1890-1989) in dialog with author Thomas E. Mails in the book 'Fools Crow – Power and Wisdom' discusses the Sweat Lodge thus:
"The Stone-people Lodge (Inipi, Purification or Sweat Lodge) not only represents the womb of Mother Earth for rebirth and the universe but also, once the above-ground part is covered and all items and tools to be used (including your own sacred intent, dedication of consciousness) are inside, it becomes the dwelling place of Wakan -Tanka (Great Spirit, Creator, God the FATHER etc.) and Tunkashila (the SON) above, Grandmother Earth below and the Persons of the Four Directions (the Holy Spirit)."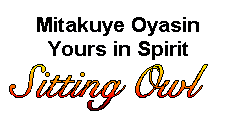 ---
Spiritual Gatherings:
Spiritual Unity of the Tribes Gatherings
19th SUT Australian - Pomonal "Gariwerd" Victoria
5th - 8th April 2017
4 Days of Ceremony
Wednesday - Saturday fire and ceremony.
The Spiritual Unity of the Tribes committee are pleased to announce our 19th Gathering at Pomonal "Geriwerd" Victoria April 5-8, 2017

The sacred fire will be lit early morning of April 5 and extinguished the afternoon of April 8. Camp day will be April 4 and pack up day will be April 9.

Bunjil is the creator recognised by the tribes of Victoria, some clans call him by another name from their language, but to the Gariwerd clans he is Bunjil – depicted in an ancient cave painting at Gariwerd and known to shape shift to the wedge tail eagle.

Spiritual Unity of the Tribes (SUT) exists to bring all peoples together to assist healing. The sacred fire is the heart of the Gathering- this provides a sacred space in which to share. Participants acknowledge the existence of a higher power, and share the intent and belief that through prayer, change and healing can occur.

SUT is sponsoring elders to participate in the Gathering and share their wisdom at the sacred fire. Please consider sponsoring an elder- there are costs- large and small- involved in bringing elders to the Gathering. There is no formal charge to attend the gathering but donations are much needed and appreciated.

Your attendance will be an agreement to abide by the protocol as laid down by SUT and the elders regarding conduct while on the land. This gathering depends on your support, both in attendance and participation. The gathering is not for spectators.
For more information on the gathering, visit our website www.spiritualunityofthetribes.org.au

Email: info@spiritualunityofthetribes.org.au

Please note: The ceremony is sacred - the protocol / lore must be followed by all.
IMPORTANT INFORMATION
ACCOMMODATION

LOCATION: Lennox Rd, Pomonal, Victoria, turn off the Ararat – Halls Gap Rd. about 15 mins from Halls Gap.
2.5 hours West of Melbourne.
Then follow SUT signs.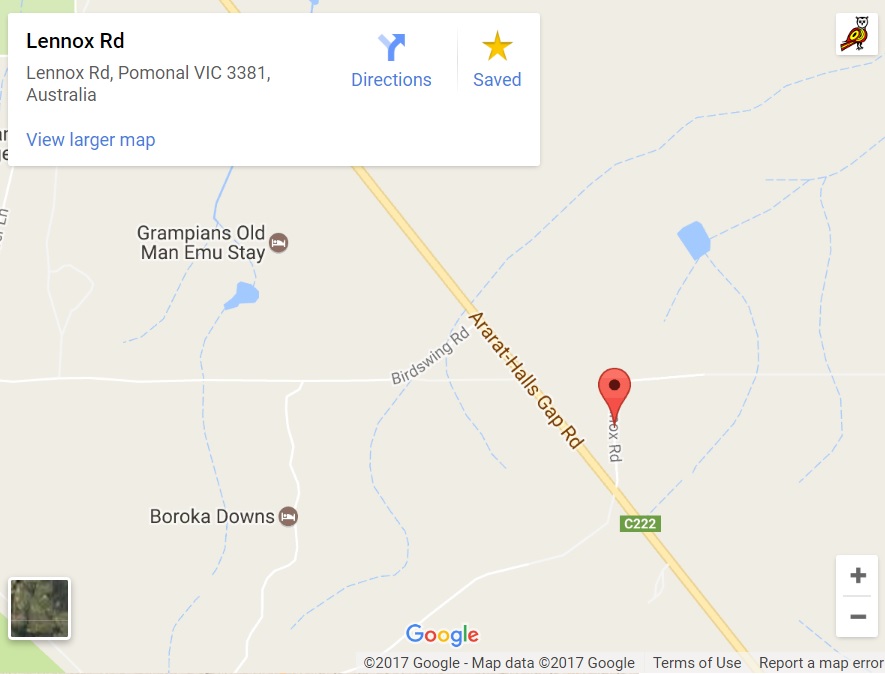 Camping is usually on the property, No electricity, No water, No showers. Plenty of room for tents, campers etc. or at Brambuk Backpackers at a reduced rate for SUT members.

It's about a 15 minute drive back to the gathering site from, Brambuk Backpackers, 277 Grampians Rd, Halls Gap VIC 3381 Ph: 03 5356-4250 for accommodation - cabins. Mention SUT Gathering for a discount.

Sacred Fire which is the heart of the Gathering is on private land.

For safety reasons parking next to tents will not be possible, camper/van parking will be allocated away from the tent area. Caravans will be permitted in the van area. Halls Gap has a gaggle of accommodation houses, and other caravan parks for those wishing to camp off-site.

FOOD AND SUPPLIES

One meal per day will be collectively prepared and offered to the entire Gathering. Donations of food to the kitchen are necessary. We are also seeking volunteers for meal preparation. If you are part of a group and wish to volunteer for an entire meal preparation and or an individual who wishes to help, and for all food donations and offers of meal preparation, please contact John Palmer: spiritualunity44@gmail.com
If you are attending the gathering please email with the numbers of your party, to assist us with planning and logistics. Bring your own cutlery, plates, cups, and bowls for meals. Please bring reusable items, not disposables (for the environment's sake).

There will be no water on site and it would be helpful if everyone could bring additional drinking water for your own needs.

Your own folding chairs - chairs to lend to Elders (with your name clearly marked), sunscreen, umbrellas, torches, and solid soled footwear. Groundsheets would be useful. Nights will be cold.

LORE

No alcohol, No marijuana, No illegal drugs, No chroming,
No pets. No tape recorders, No CD players/radios. No firearms.
No proselytizing (preaching or promoting other business' or causes). No politics.
Mobiles phones to be switched off and only used for outgoing calls in camp if absolutely necessary.
All ceremonies will be under the guidance of the Gathering Council.
This is a spiritual cultural gathering not a music festival.
IF YOU ARE UNABLE TO HONOUR THIS 'LORE' PLEASE DO NOT COME TO THIS GATHERING it is not for you.
Photographs can only be taken in the general camp area and at the fire 'after' the closing ceremony.

OTHER INFORMATION

Camping can begin Tuesday or earlier so that we can all get settled in and complete necessary tasks prior to the opening ceremony.

The opening ceremony will be at sunrise Wednesday. The gathering will conclude on Saturday Evening. Participants are welcome to stay over till Monday or Tuesday to assist clean up and farewell.

Your help will be necessary to make the running of this gathering a success. Work needed will include meal preparation; clean up, security, assisting the Elders, and fire tending. Please sign up for tasks upon arrival.

The Elders have indicated that they should speak, sharing their wisdom and knowledge with us. We would like to assist as many Elders as possible with their transportation and accommodation expenses. If you are able to help with the 'Sponsor an Elder Program' please contact John on 0435-390116

Volunteers for children's activities are needed. Please for this task you are required to hold a current Working with Children Card.

SUT gatherings have no formal charge so that no one is excluded by lack of money, however, they do cost, so if you can give a donation to help with the costs. Spiritual Unity is a registered tax-deductible gift recipient, so all your donations over $2.00 are fully tax deductible - ask John for a receipt. For further information, contact: John Palmer email: spiritualunity44@gmail.com

Fundraiser Auction donations please contact John on 0435-390116 Please bring something to donate to our auction on the Saturday e.g. book, craftwork, jewelry etc.

Membership of Spiritual Unity of the Tribes Inc Assoc. is available at $33 per person per annum - if you are not a member you can assist us by joining. Contact the Treasurer John Palmer, email: spiritualunity44@gmail.com Memberships are tax deductible.
For further updates and info visit www.spiritualunityofthetribes.org.au or keep an eye on this page.
---
Contact me and make your own coming event!