Music By: Freedom
Now Playing:
CD: 'Complete Unity'
By: Freedom






Available for purchase NOW from

Freedom has a unique style of Reggae music and his messages are very spiritually profound. The messages are of uniting the human tribe and honouring the Elders and Youth of the indigenous and first nations people of our Mother Earth. It is my honour and privilege to produce Freedomís music.
---
Other Products
---
Art & Carving
---
Music CDs
---
Spiritual Unity of the Tribes
Sacred Soap
Outback Pride - Australian Native Foods
http://www.spiritualunityofthetribes.org.au/
---
Salsart (Sally's art shop) (Great stuff)
---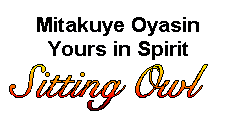 Donations
If you would like to make a donation to Sitting Owl
please use this button.